Find What You're Looking For
Tarea Hall Pittman South Branch
South Branch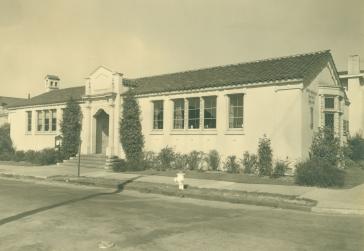 South Branch History
For more history of this branch, see the "Berkeley--Public Library--South Branch" clipping file located in the Berkeley History Room.
Past & Current Locations
1896-1901: The South Branch began its existence as the "Lorin Reading Room" in about February 1896, being located in a small room of a building on Alcatraz Avenue. 
1901-1927: In October 1901 it was moved to 3218 Adeline and was renamed "South Branch" in 1903. 
1913-1927: In 1913 the "Ashby Branch" was opened at 2968 Adeline: there were now two branches of the library in the South neighborhood. 
1927-1958: Both the Ashby and South branches were closed and combined into a new building - called simply the "South Branch" - in April of 1927.  This building was located at 1839 Woolsey (and Grove, later Martin Luther King Jr. Way).  It was designed by locally famous architect James Plachek, and cost $35,000.
1958-2012: Unfortunately, by 1958 significant dry rot led the city engineer to condemn the building in 1958.  A new building was constructed in 1962 at the present location - Russell St & Martin Luther King Jr. Way.  This building was designed by J. Hans Ostwald and cost $108,000.  The meeting room was added in 1974, also designed by J. Hans Ostwald, and cost $46,000.  In 1979 a small trailer was parked behind the branch to serve as a tool lending library - one of the first in the country.  Originally serving only South and West Berkeley residents, the service was opened to all Berkeley residents in 1988.  By 1991 a permanent addition was added to South to house the now wildly popular Tool Lending Library.
2012-2013: With the passing of Measure FF a new South branch was built on the site of the old building.  The branch was closed for renovation, while the Tool Lending Library was temporarily located at 525 8th Street (near Parker), Suite 12A.
2013: May 11 was the date the newly rebuilt South Branch was opened to the public.