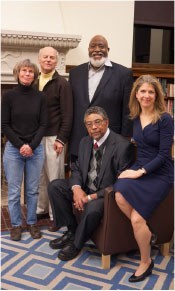 The Berkeley Public Library is administered by a Board of Library Trustees [BOLT], the only appointed administrative Board in the City. The Board consists of five Berkeley residents; one member of the Board must also be a member of the City Council. Members of the Board are appointed for four year terms by the City Council as a whole.
Pictured in the photo to the right from L-R (back): Vice-Chair Julie Holcomb, Jim Novosel & Darryl Moore. (seated) Winston Burton & Chair Abigail Franklin.
The Board of Library Trustees meets regularly on the second Wednesday of the month at 6:00 P.M. Rescheduling sometimes occurs; call the Library Administrative office at 510-981-6195 to verify time and date. Meeting locations are subject to change. Please check the current agenda packet to confirm location. The packet is available at all Library location and online.
Privacy Information: Communications to Berkeley boards, commissions or committees are public record and become part of the City's electronic records, which are accessible to the public through the City's website. 
Please note: e-mail addresses, names, addresses, and other contact information are not required, but if included in any communication to a City board, commission or committee, will become part of the public record. If you do not want your e-mail address or any other contact information to be made public, you may deliver communications via U.S. Postal Service or in person to the secretary of the relevant board, commission or committee. 
If you do not want your contact information included in the public record, please do not include that information in your communication. Please contact the secretary to the relevant board, commission or committee for further information. http://www.ci.berkeley.ca.us/commissions/)
| | |
| --- | --- |
| BOLT Contact | Library Contact |
| |  Jeff Scott, Director of Library Services, Secretary 510-981-6195 |
Past Meetings, Agenda Packets and Audio
Note: Beginning with the July 2010 meeting, the Berkeley Public Library will post audio of all BOLT meetings. The audio is available in .MP3 or .WMA formats (requires either the Microsoft Windows Media player (PC) or Microsoft Silverlight plugin (Mac OS X & PC) to play back.)
Date

Meeting
Type

Agenda
Packet

Audio
MP3 

Audio
WMA 

Approved
Minutes

5/28/2015
Special
Agenda 
 
 
 
5/13/2015
Cancelled
Cancellation Notice 
 
 
 
05/07/2015
Special 
Agenda 
Audio 
 
 
04/22/2015
Regular
Agenda 
Audio 
 
Minutes 
04/22/2015
Special (Teen Room Workshop)
Agenda 
Audio 
 
Minutes 
03/11/2015
Regular
Agenda 
Audio 
Audio 
Minutes 
02/11/2015
Regular
Agenda 
Audio 
 Audio 
Minutes 
01/14/2015
Regular

Agenda 

Audio 
Audio 
Minutes 
For agendas and minutes of BOLT meetings prior to January 2007, see the City Clerk's Office, Boards and Commissions.