It takes the community to support the Library! Many people and organizations are committed to Berkeley Public Library's continued success. 
Gift & Donation Policy
The Berkeley Public Library acknowledges the great importance of private gifts and donations to the library's future development and growth. We welcome gifts of money to enhance library services through the provision of additional materials, equipment and services, as well as other types of gifts such as books.  The Library encourages gifts of cash, not earmarked for specific items (unrestricted) in order to permit the most flexible use of the donation for the enrichment of the library program. Unrestricted funds allow the Library to address its most pressing needs at its discretion. Unrestricted monetary donations may be given by check or money order made out to the Berkeley Public Library.
Download the Gift & Donation Policy

---
The Berkeley Public Library Foundation was established in 1997. Its mission—to raise funds to support and enhance the facilities, programs, and services of the Berkeley Public Library.
The Foundation's first and highly successful project was completion of a $4.1 million capital campaign to fund furniture, fixtures and equipment for the 2002 renovation of the historic Central Library. It has continued to raise funds for many Library projects.
The Foundation recently launched the Neighborhood Libraries Campaign to raise $3.5 million to aid the Branch Library renovation program. Their signature event is the Annual Authors Dinner, launched in 2002.
The Foundation, a 501(c)(3) nonprofit,  is governed by a volunteer Board of Directors and currently has two paid staff members. Read more about the Berkeley Public Library Foundation.
---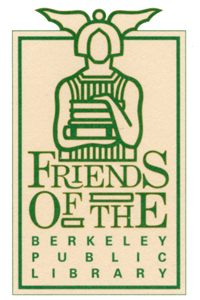 The Friends of the Berkeley Public Library, established in the 1950s, is a 501(c)(3) memberships organization dedicated to enhancing the Berkeley Public Library through fundraising and advocacy efforts.
The Friends operate two affordable used bookstores. Proceeds from the sale of books, plus memberships ($25 annually) and donations support most library programs and events. Read more about the Friends of the Berkeley Public Library.
---
The Friends' Bookstores
Central Library Bookstore
510-981-6211

2090 Kittredge Street
Berkeley, CA 94704

Monday 12Noon-4PM
Tuesday-Saturday 10AM-4PM
Sunday 2PM-4PM

Channing Way Bookstore
510-841-5604

2433 Channing Way
Berkeley, CA 94704

Tuesday-Saturday  10AM-4PM

 
Donations
The Friends' Bookstores depend entirely on donations of books, CDs, and DVDs. Donations can be brought to the bookstores during business hours. If you have a large quantity of books or media to donate, please call 510-841-5604 to arrange a pickup. All items should be in good condition.
The Friends' Bookstores are staffed by over one hundred volunteers. Additional volunteers are always welcome. Find information online or leave your contact information at 510-981-6152 and the Friends will call you.