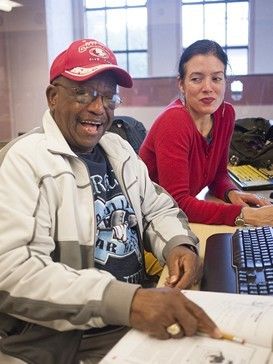 Berkeley READS is our adult and family literacy program.We provide free literacy services for eligible adults over the age of 16.
We provide:
One-on-one tutoring: Learners are matched with tutors for weekly tutoring sessions. Free instructional materials are provided. 
Drop-in sessions:  Open sessions are available for learners on our wait list and for those who want additional assistance. 
Computer Lab: Learners access tools in our computer lab at West Branch or at Central, with tutor support.
Small group tutoring: Learners support each other on focused projects.
Family literacy: Volunteers visit local organizations, providing story visits and free books to children. We provide special programs for children and caregivers to strengthen literacy skills.
Special programs: Learners strengthen literacy skills while visiting museums, cooking, and learning about the environment.
Locations and Hours
1125 University Avenue
Berkeley, CA 94702
510 981-6299
Monday 10-6
Tuesday 10-6
Wednesday 10-6
Thursday 12-8
Friday 10-6
Monday-Friday 12:30-4:30
Tuesday 10-5
Become a Volunteer Tutor
Join our team as a volunteer adult literacy tutor!  Volunteers are patient, flexible and want to make a difference in their community.  Tutors work one-on-one with adult learners, improving basic reading and writing skills and supporting learners in achieving their learning goals. 
Volunteer tutors must:
have a high school diploma or GED
complete our free tutor orientation and training
commit to at least six months of volunteering
be available to tutor twice a week for one or two hour sessions
stay connected with Berkeley READS by participating in phone calls and planning meetings
Learn more about becoming a volunteer tutor. Call 510-981-6299.