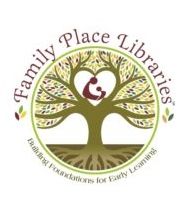 What is a Family Place? A space filled with toys, comfy furniture, and a collection of parenting materials on the fourth floor of the Central Library. Magazines about raising your kids and having fun with them. Brochures and handouts on issues from safety to nutrition to your child's developmental stages to early literacy.
Family Place also includes our Parent-Child Playshops, where families of children ages 0-3 come together to share unstructured play time at our fun learning stations, and hear from community resource professionals on topics such as speech and language development, nutrition, play, music, and child development. 
Learn more about Family Place and our Parent-Child Playshops through our interactive online Family Place room. Click on links in the image above for short videos, booklists, and information about Family Place. In addition, stay tuned for other early childhood programming, including short songs, poems, rhymes, and more on the Bits and Pieces playlist on the Berkeley Public Library Kids YouTube channel.