Contact: Michele McKenzie
Art & Music Librarian
Berkeley Public Library
510-981-6241
The Paintings of Pete Najarian at Berkeley Public Library
Exhibit and Reception
Berkeley, July 7, 2014 – Berkeley artist and author Pete Najarian exhibits a retrospective of his paintings at the Central Library from July 7th – August 3rd, 2014.  All are invited to meet Najarian and discuss his work during an Artist Reception on Sunday, July 13th at 2:00 p.m. in the 1st floor Catalog Lobby of the Central Library. 
Najarian's paintings have been exhibited both locally and internationally.  He taught creative writing at the Scripps College for Women in Claremont and the University of California at Berkeley.  Najarian also served as a Fulbright Lecturer in Armenia.  The exhibition will be on display from July 7th – August 3rd in the Catalog Lobby on the first floor of the Central Library, 2090 Kittredge at Shattuck, downtown Berkeley. For questions regarding this program, call 510-981-6241 or visit the library's website:
www.berkeleypubliclibrary.org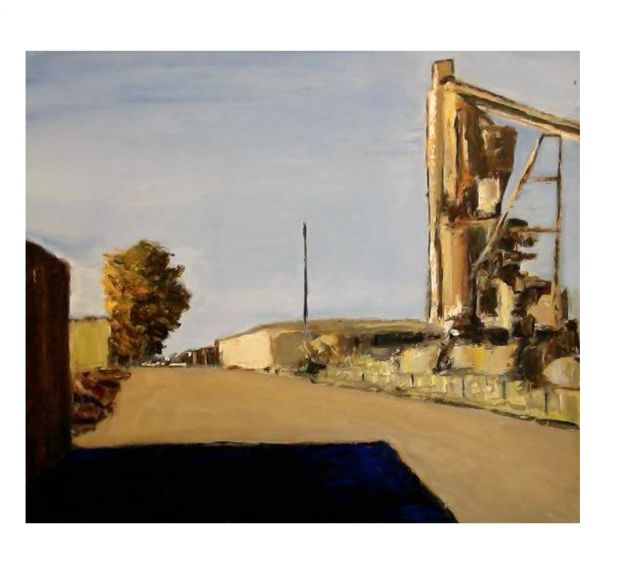 Second Street, Berkeley
, oil, 2007 by Pete Najarian
Najarian's exhibition includes figurative paintings connected to his writing and plein air landscapes influenced by local master painters.  Najarian's two books, The Artist and His Mother and Daughters of Memory, explore the connection of portraiture and the legacy of survivors of the Armenian Genocide. His books, including The Great American Loneliness are part of the Berkeley Public Library's fiction collection.  A documentary about his mother, I Will Not Be Sad in This World, by local filmmaker Karina Epperlein is part of the library's nonfiction film collection.
The Central Library is open Monday, noon-8 p.m., Tuesday, 10 a.m. - 8 p.m., Wednesday through Saturday, 10 a.m. - 6 p.m., and Sunday afternoons from 1 p.m. - 5 p.m.
Wheelchair accessible. For questions, to request a sign language interpreter or other accommodations for this event, please call (510) 981-6195 (voice) or (510) 548-1240 (TTY); at least five working days will help ensure availability. Please refrain from wearing scented products to public programs. 
###