Contact: Tess Mayer
Director of Library Services
Berkeley Public Library
510.981.6100
tmayer@cityofberkeley.info
Berkeley Public Library Board of Library Trustees Welcomes New Trustee: Beverly Greene
Berkeley, California (July 28, 2021) – During last night's City Council meeting, Council unanimously approved the appointment of Beverly Greene to fill the one open vacancy on the Berkeley Public Library Board of Library Trustees (BOLT).
Trustee Greene's term begins August 31, 2021 and her first regular meeting as Board Member will be on September 1, 2021 at 6:30pm. Trustees are appointed for a term of four years.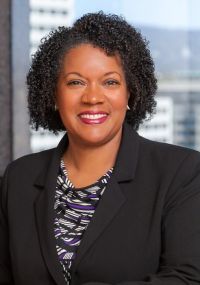 "I am honored to have been chosen to support an institution that has been so very important to me," shares Trustee Greene. "I grew up here, have visited and studied at all of the branches, and worked at Central shelving books as a Berkeley High student before I left to attain undergraduate and graduate degrees. I appreciate being able to give back to the Library and to my community and look forward to building on the excellent strategic work BOLT has embarked upon."
The Library received more than 25 applications for the one vacancy on the Board, an unprecedented response to a call for candidates. BOLT Trustees reviewed applications, interviewed applicants at public meetings and then voted on July 7, 2021 to recommend Ms. Greene to City Council for appointment to BOLT.
BOLT President, John Selawsky notes, "Ms. Greene was chosen unanimously by the four sitting members of BOLT during an extensive interview and selection process. As an employee of Alameda-Contra Costa Transit District (AC Transit), she brings a wealth of experience and a deep commitment to serving the public sector, and has demonstrated her commitment to equity and diversity with many equity and diversity related strategies, policies, and programs. We look forward to welcoming Beverly Greene to BOLT and working together to build an even stronger Berkeley Public Library system."
Trustee Greene is currently the Executive Director of External Affairs, Marketing & Communications for AC Transit and has held senior level management roles at the agency since 2007. Prior positions include associate marketing manager for the Clorox Company, Special Assistant to Assembly Speaker Willie L. Brown, Jr. and Executive Director of Small Press Distribution in Berkeley. Trustee Greene holds a MBA in Marketing from the Anderson School at UCLA and a B.S. in Business Administration from the University of Southern California.
City of Berkeley Councilmember and BOLT Trustee Sophie Hahn announced, "I'm delighted that the City Council voted unanimously to appoint Beverly Greene as our newest Library Trustee. Beverly Greene is a lifelong Berkeley resident - I've had the pleasure of knowing her since our days at Berkeley High School. She has dedicated her career to helping public agencies thrive, and has a deep and demonstrated commitment to equity. I'm looking forward to serving with Trustee Greene to support realization of our Library's important mission and build on the Library's great success."

With assistance from the Library Director, Trustees formulate policy and serve as managing agents of the Library Fund. BOLT has the legal authority and responsibility to see that the Library is well-managed, and that it operates in accordance with the Berkeley City Charter and Berkeley Municipal Code. BOLT is the only appointed administrative Board in the City. Trustee Greene looks forward to this role: "With the goals of enhancing patrons' experiences, safety and wellness; expanding the love of reading and the Library's reach; providing positive organizational culture; and strengthening the collections and programs, our Library's sustainability will be assured for future generations to pass through Berkeley Public Library doors."

To learn more about the Board of Library Trustees, please visit the BOLT homepage on the Library's website.
To learn more about Berkeley Public Library programs, services, collections, hours and locations, please visit the Library's website at www.berkeleypubliclibrary.org.
###