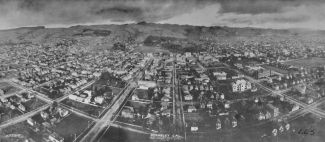 Find information about the history of Berkeley's streets and transportation as well as historical maps of the city.
Find tract and other maps of the area in our collection.
Maps
Discover the history and evolution of Berkeley by accessing these maps, old and new.
Physical maps in our collection
In addition to the maps readily available to you, there are large format uncataloged maps behind Central's Reference Desk.
Online Maps of Berkeley's Evolution
One of the earliest maps of the area that would become Oakland, Berkeley, Emeryville and Albany.  The map is oriented with North to the left. The city of Oakland is to the right; Berkeley and Albany would eventually fill in the area to the left.  Berkeley now occupies the tracts of land numbered 51, 53, 55-71 & 74-94. 
F. K. Shattuck would soon squat on tract No 68, and his brother-in-law Mr Blake on No 69.  They persuaded Leland Stanford to run a rail line from Oakland on the line between their properties; this line became Shattuck Road (later Shattuck Ave).
 In addition to the map, there is also a rich history of the Berkeley LTI Association.
 Entitled Strawberry Valley, this map shows the area in Berkeley that became (among others things) the UC Memorial Stadium. This map's focus is the sources of Stawberry Creek.
Historic property ownership maps showing proposed subdivisions from 1878.  This page shows Alameda County, and while it is a commercial site, provides free maps for viewing.
Showing 1878's Oakland Township, which included present-day Oakland, Berkeley and Albany, accessed through the David Rumsey Map Collection
Showing 1884's map of Oakland, Berkeley, Temescal, Emeryville, Piedmont and Alameda, access through the Davide Rumsey Map Collection
Charles A. Bailey was a real estate developer active in Berkeley at least from the 1870s to 1890s.  The library has a copy of this map available for closer scrutiny in the Berkeley History Room.
This is an early map focusing on the San Francisco Bay, which clearly shows Berkeley's and the early waterfront, Bay depths, plus a lot of inland details as well.
Originally the complements of local realtor Warren Cheney & Co., this map represents Berkeley at the eve of its great growth that occured as a result of the Great Earthquake and Fire of 1906.
The United States Geological Survey commissioned this map after the Bay started to be significantly altered in the post-Earthquake era. Among other things, it shows that the Berkeley area was really starting to fill with buildings and population.
As the title suggests, this map outlines the development of the University of California.  Note that most of the area to the North (in this case, to the left) of Bancroft Avenue is still privately owned and subdivided into blocks.  This would change by the early 30s.
Transportation in Berkeley
\
Streets and Street Name History
\