May 18, 2023 - 2:00pm-3:30pm
(ended)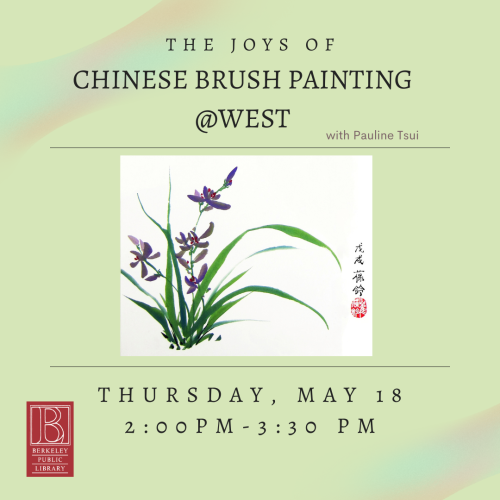 ***We are sorry, but there are no more spaces available for this event. However, you can still sign up for the waitlist and we will contact you if a space opens up. 
Join us in celebrating AAPI Heritage Month with art and creativity! Artist-instructor Pauline Tsui presents an introductory workshop in Chinese Brush Painting. Learn how to paint flowers and bamboo with simple and easy steps using Chinese ink and watercolors. Art supplies such as, brushes, papers, ink and colors will be provided. This class is for beginner level participants, register early to reserve your spot. 
Pauline Tsui is an artist, writer, and a docent of the Asian Art Museum of San Francisco. She studied traditional Chinese brush painting with renowned masters in Hong Kong; attended Mills College of Oakland, National School of Fine Arts in Paris, and Fashion Institute of Technology in New York, to pursue degrees in design and western art. Pauline teaches painting and calligraphy classes at community centers, libraries, and art museums. In 2020 Pauline started virtual art classes using Zoom. Pauline's East-meets-West approach and methodical teaching style appeal to a broad audience in California and across the country. 
Space is limited and registration is required. Please sign up at https://bit.ly/3npcO7A or contact the library at (510) 981-6270.
Export to Calendar: Add this event to your calendar (iCal).