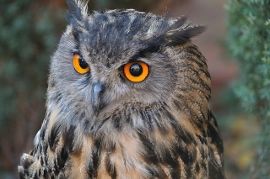 Join us in celebrating the change of the season with events and digital resources to get you and your family into that fun and spooky Halloween spirt. 
On October 29, bring the family for an Owl-o-ween extravaganza! Meet a real live owl in a presentation by the Lindsay Wildlife Experience and try other science and art activities, too.  On October 31 we have the Fratello Marionettes performing their "Spooktacular Show".  Both events are free, see you there!
For costume and face-painting ideas, watch these videos from our Kanopy streaming video service.
Have your own Halloween movie night with selections from our Kanopy and Hoopla collections. Or, listen to these fun tales on your phone or tablet.
We also have some great new Halloween books too!