November 6, 2021 - 3:30pm-4:15pm
(ended)
Did you know that amphibians live in Berkeley?                                                                                                          
Yes, frogs, toads, newts, and salamanders make their home in creeks, vernal pools and just about any damp nook or cranny.
But what makes an amphibian an amphibian? How can you tell a toad apart from a frog or a newt from a salamander? And what's the story with South Park Drive in the Berkeley hills? What happens there on rainy nights during the winter?
Find out about the amphibians next door and learn how to be good neighbors to our moisture-loving friends.
Zoom Ev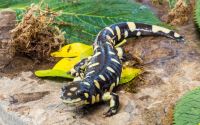 ent! Saturday, November 6, 3:30pm-4:15pm
A Naturalist from Lindsay Wildlife will be joining Berkeley Public Library for a free Zoom event about the amphibians all around us. We will hear fun amphibian facts, learn how to help our amphibian neighbors, and meet Sal, a California tiger salamander. Recommended for age 3 and up.
Register here to save a spot for your family and get the Eventbrite reminder for this fun event.
Visit our website event page: 
https://www.berkeleypubliclibrary.org/book-adventures
Export to Calendar: Add this event to your calendar (iCal).