August 14, 2022 - 11:00am-2:00pm
(ended)
The UC Gill Tract Community Farm is California's 5th largest overwintering site for Monarch butterflies, and holds work days specifically for Monarch habitat restoration and data collection on 2nd and 4th Sundays. 
As part of our #PlantWildflowers series, join the library at the UC Gill Tract Farm for one of their Monarch Restoration Workdays, plus take part in observation of pollinators with a small bioblitz!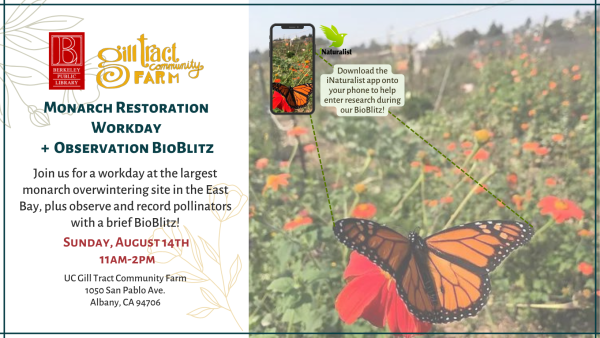 Sunday, August 14th,11am-2pm ( participants can leave any time before 2pm)
Located at 1050 San Pablo Ave, Albany, CA 94706 - Enter at the gate on San Pablo Ave to find us. If you are driving, there is street parking on San Pablo or Ohlone.
The workday will entail weeding, mulching, and planting in the pollinator garden, in addition to the bioblitz.
To participate in the bioblitz, download the iNaturalist app to help record observations that directly contribute to research: https://www.inaturalist.org/
Young observers can also use the Seek app: https://www.inaturalist.org/pages/seek_app
For more information on the UC Gill Tract Farm, visit www.gilltractfarm.org. For more on Monarch Preservation at the farm, visit https://www.gilltractfarm.org/save-the-monarchs
Export to Calendar: Add this event to your calendar (iCal).