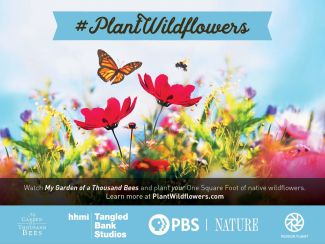 In Spring 2022, Berkeley Public Library hosted a series of events around the subject of native plants and how to support local pollinators, with various engagements for all ages.

This was part of the nationwide #PlantWildflowers campaign that highlights the critical role bees and other pollinators play in healthy ecosystems. In support of the film, My Garden of a Thousand Bees, HHMI Tangled Bank Studios and PBS Nature launched the #PlantWildflowers campaign to encourage communities across the U.S. to better understand the importance of native bees and other pollinators and to create new pollinator habitats where pollinators can thrive.

At various events through the spring and summer, attendees experienced the beauty and biodiversity of local pollinators, as well as learn how to support these important creatures.
You can find our full press release at https://www.berkeleypubliclibrary.org/about/news/plantwildflowers-initiative-library.