---
Book Fun 
Spiderama! Spiders in Your Neighborhood
How do spiders help us? How do they help our community? Our world?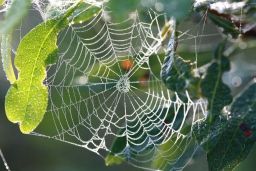 Learn about spiders by reading, watching, and listening to books, ebooks, and audiobooks. Then embark on a exploration of your own backyard during the months of October and November. You will find below (under construction) links to movies to watch, and other activities you can do at home.
Join us for a special live virtual event on Saturday, October 24 from 2:30 to 3:30, where Ranger Anthony Fisher of the Tilden Environmental Education Center and Patrick Stadille, author of Spiders in Your Neighborhood (He
ydey Books, 2013), will each talk about our friendly neighborhood spiders. Register on Eventbright (link available beginning on October 1) to save your place and obtain the Zoom link.
Our book and media list of library resources will help you find books, ebooks, audiobooks, music, and movies. Check them out or stream them today!
---
Virtual Family Storytime
Story time brings language to life and open up the world of other people and places. Join us for good stories, rhymes, music and fun every Wednesday at 11:00 on Facebook Live.
---

 5th & 6th Grade Virtual Book Club
At our first meeting (October 20) just bring a book that you have read recently and enjoyed. We will share them with one another in a fun and non-competetive atmosphere. For our November and December meetings we will read the same book (to be announced). All books will be available as ebooks, or we have a limited number of paperback copies to give to you upon request. For further information email us at bplkids@cityofberkeley.info.
We meet on October 20, November 17, and December 15 (third Tuesdays) from 4:00-5:00 pm on Zoom.
---
Online Calendar
View our online calendar to see all all programs and look for up-to-date information.