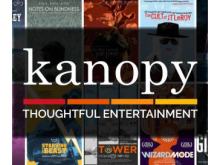 If you're interested in independent, international, classic and documentary films, sign up for Kanopy, the Library's newest on-demand video streaming service.
Includes films from The Criterion Collection, Great Courses and PBS as well as thousands of independent filmmakers.
Here's how to get started:
1. Go to cityofberkeley.kanopystreaming.com and create an account by clicking on the Sign Up button.
2. Go to your email account to verify your email address.
3. Add your library card number.
4. Start watching videos! You have 30 tickets available per calendar month. (What are tickets?)
Note: Kanopy Kids do not deduct tickets to view. Learn more about tickets.
NOTE: Kanopy is not available through our OPAC terminals. Check out a Chromebook at any branch to use this resource.
Kanopy will only work on Chromebooks through the Kanopy app, currently on the Google Play app store.
Kanopy is accessible through Extras section on the Libby (from Overdrive) app.