March 9, 2023 - 7:00pm-8:30pm
(ended)
Join us for two Virtual Parent Workshops: Talking Bodies and Gender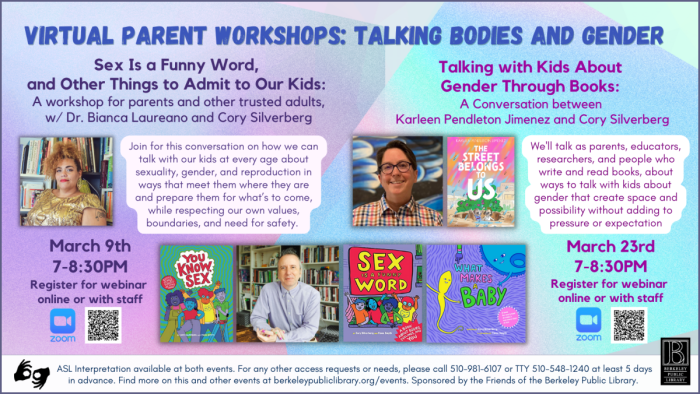 March 9th, 7-8:30PM
Sex Is a Funny Word, and Other Things to Admit to Our Kids: A workshop for parents and other trusted adults
Described by the New York Times as the "books about sex that every family should read," Cory Silverberg has been creating new ways for young people and their families to learn about bodies, gender, and sexuality for over 20 years.
In this lively presentation and discussion, Cory will read from their newest book, You Know, Sex and be joined in conversation with Dr. Bianca I Laureano to talk about how we can with our kids at every age about sexuality, gender, and reproduction in ways that meet them where they are and prepare them for what's to come, while respecting our own values, boundaries, and need for safety.
Register in advance for this webinar:
https://us02web.zoom.us/webinar/register/WN_ODa0iRZoTKucNfM0haEAuQ
March 23rd, 7-8:30PM
Talking with Kids About Gender Through Books: A Conversation between Karleen Pendleton Jimenez and Cory Silverberg
In this conversation and interactive discussion, we'll talk as parents, educators, researchers, and people who write and read books, about ways to talk with kids about gender that create space and possibility without adding to pressure or expectation.  We'll talk about what it can look like for young people to express their gender as they wish, instead of having to conform to the expectations of adults and peers. We'll share the stories we hear from young people, and how we respond personal, professionally, an in books for young people and adults.
Register in advance for this webinar:
https://us02web.zoom.us/webinar/register/WN_4kk3Kb1iROaBxoPFQkPfGw

ASL Interpretation will be available at both events. For any other access questions or requests, please call 510-981-6107 or TTY 510-548-1240 at least 5 days in advance.
Sponsored by the Friends of the Berkeley Public Library
About:
Bianca I Laureano is an award-winning educator, curriculum writer, and sexologist. She is a founding member of the Women of Color Sexual Health Network and ANTE UP! a virtual freedom school for sexuality professionals. She has written curricula and led the curriculum development for the award-winning Netflix film Crip Camp guided by disability justice principles. She is an AASECT certified sexuality educator and supervisor and was awarded an honorary doctorate from the California Institute for Integral Studies for her work in expanding the US sexuality field. She is the editor of The People's Book of Human Sexuality: Expanding the Sexology Archive available in May 2023. Find out more about Bianca at her website BiancaLaureano.com and about ANTE UP! at www.AnteUpPD.com
Karleen Pendleton Jiménez is the author of Lambda Literary Award finalists Are You a Boy or a Girl? and How to Get a Girl Pregnant; Tomboys and Other Gender Heroes; her new middle grade book The Street Belongs to Us, and numerous short stories and essays. She wrote the award-winning animated film Tomboy and has been recognized by the
American Library Association and the Vice Versa Awards for Excellence in the Gay and Lesbian Press. She is professor of education, gender, and social justice at Trent University. Raised in Los Angeles, she lives in Toronto with her partner and child.
Cory Silverberg bio:
Raised in the 1970s by a children's librarian and a sex therapist, Cory grew up to be a sex educator, author, and queer person who smiles a lot when they talk.  Cory teaches and talks with young people, adults, and professionals across North America about gender, sexuality, disability, and more.  Their books for young people and families have been called "the books about sex that every family should read" by the New York Times and include the ALA Stonewall Honor Book Sex Is a Funny Word, and most recently You Know, Sex. Learn more at www.corysilverberg.com.
Image descriptions:
Flyer graphic has a purple teal and pink background, and presents the information above.
Bianca is a tall fat light skinned disabled queer AfraLatina who is in a gold dress with gold beaded geometric designs and looking to the left side of the room Her hair is up and her blondish brown curls cascade around her head. She has on red lipstick and large round gold earrings. She stands in front of a full bookcase with a serious look on her face.
Karleen Pendleton-Jimenez appears light skinned with short brown hair and wearing black-framed glasses, and is smiling at the camera. She is wearing a button-up collared shirt with a rainbow checker gingham pattern and stands in front of a blue white and black painted background.
Karleen's photo is next to an image of her book: The Street Belongs to Us.
Cory is a 50ish white, queer, Jewish person sitting at a desk with their hands folded in front of them. Their nails are painted green and fuchsia.  They are smiling and staring at the camera.  Behind them is a crowded bookshelf.
Photo credit: Samantha Blanchette
Cory's photo is next to images of his books: You Know, Sex and Sex is a Funny Word and What Makes a Baby
The Berkeley Public Library logo has a large B in white, and sits in a black rectangle.
Export to Calendar: Add this event to your calendar (iCal).