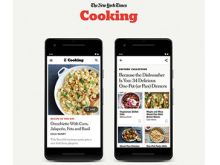 Activate your access to New York Times Cooking
Mealtime inspiration. Diverse recipes. Dynamic guides.
Enjoy access to The New York Times Cooking, courtesy of Berkeley Public Library
Activate your complimentary access today. Return here for another 24 hours of New York Times Cooking.
For unlimited access on The Library's WiFi, you must sign up for a free account on NYTimes.com, using a valid email address. Click Register Now to sign up and create an account with your personal email address, otherwise, log in if you already have a NY Times account.