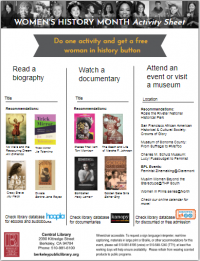 We are celebrating Women's History Month, by encouraging our community members to participate in a women's history month activity. 
Participants are asked to read a biography, watch a documentary or attend an event/visit a museum exhibit.
After doing just one of these activities they can recieve a free women in history button!
Click here to print out the sheet, or pick up a copy at any reference desk.
Activity sheets can be redeemed during the month of March at BPL reference desks. This program is system wide; all branches are participating.