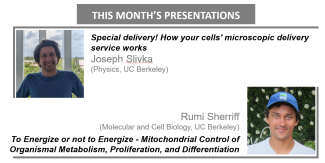 Every month, learn about cutting-edge research happening at UC Berkeley, directly from the scientists themselves. Join Popping the Science Bubble every third Tuesday of the month at 5:30 pm.
Tuesday September 19, 2023
This month's topics:
Special delivery! How your cells' microscopic delivery service works
Joseph Slivka
(Physics, UC Berkeley)
Rumi Sherriff
(Molecular and Cell Biology, UC Berkeley)
To Energize or not to Energize - Mitochondrial Control of Organismal Metabolism, Proliferation, and Differentiation
Happening onsite at Berkeley Public Central Library and on Zoom.
View on Zoom 
You can stay up to date with our upcoming seminars by joining our listserv. Email poppingthesciencebubble@berkeley.edu to join and checkout past talks on our youtube channel.