May 9, 2023 - 6:30pm-8:00pm
(ended)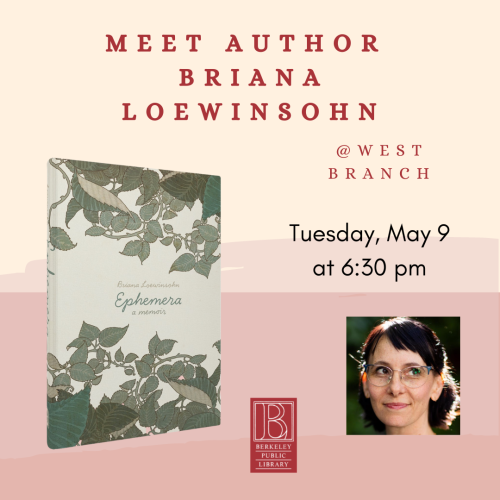 Join us for a talk and book signing with Oakland author Briana Loewinsohn. Ephemera: A Memoir is a debut graphic novel that poignantly blends memoir, magic realism, and graphic medicine.
Ephemera is a poetic and dreamlike take on a graphic memoir set in a garden, a forest, and a greenhouse. The story drifts among a grown woman, her early memories as a child, and the gossamer existence of her mother. A lyrical entry in the field of graphic medicine, Ephemera is a story about a daughter trying to relate to a parent who struggles with mental illness. Gorgeously illustrated in a painted palette of warmy, earthy tones, it is a quiet book of isolation, plants, confusion, acceptance, and the fog of childhood. Loewinsohn's debut book is an aching, meditative twist on autobiography, infusing the genre with an ethereal fusion of memory and imagination.
Briana Loewinsohn is an American cartoonist. These days she teaches high school art and draws comic books. She lives in Oakland, CA with her husband, daughter, and son. If she doesn't text you back, she is probably gardening. Follow Briana on Instagram @brianabreaks
Export to Calendar: Add this event to your calendar (iCal).