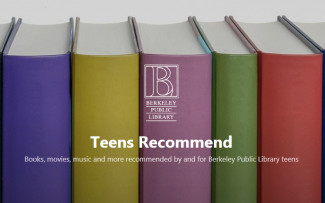 Book, movie & music reviews by teens for teens! Because who would know better what Berkeley teenagers might want than other Berkeley teenagers? 
Some of the most recent reviews are featured here. 
See all the reviews at BPLTeensRecommend.wordpress.com. 
Then check them out from the library. 
Do you have opinions about books, movies and music? Submit your own review!
---
So Hugo Cabret…although I enjoyed the movie better, the book was great too. It starts off with a boy who works on clocks. He is by himself and doesn't have a home or any parents. His dad died in an explosion but left behind a little experiment that he'd been working on. It didn't completely break during the explosion and it was the only thing that survived and so Hugo took it to where he was staying next to a giant clock that he always fixed. He would work on the project but Hugo needed tools which he didn't have. He also didn't have money so he tried to steal the tools of a toymaker but got caught. The man there caught his notebook with the drawings of the invention and got Hugo in trouble, trying to take him to an orphanage, but Hugo would run away. It kept going like that until he showed him the actual project he was working on and the man enjoyed that and took him in. It is a good book but kind of long to read. It is not fantasy or mystery or romance, it's a totally unique kind of book that is realistic and people in the world may relate to it. It has a lot of pictures and definitely shows a lot of what's going on.
The movie was even better than the book. I understood the movie much clearer. I don't like reading books often but I really like watching movies and since I watched the movie second after I had already read the book, it gave me a better understanding of everything. I recommend it to elementary or middle school students.
Reviewed by Rahma – 8th grade
Find The Invention of Hugo Cabret at the library.
---
Oscar: Maus is a two-part graphic novel about how it was during the time of the Nazis. It is pretty much about a family that goes through concentration camps. They eventually end up in Auschwitz, the most infamous of all concentration camps. The main character is also the author who is talking to his father about his experiences. I would recommend it to people who want to learn about the Holocaust and are not afraid of getting devastated by the consequences of learning about it.
HM: Yeah, pretty much I recommend it to people who don't get scarred from the things that happened. It is non-fiction and after reading the books, you can see that Art Spiegelman, the author of them is also a journalist of his father's history. And his father in the book is constantly riding a stationery bike which shows how he's stuck in a place, going in a circle. But it's a really good graphic novel about pretty much the time of the Nazis, the Jews and concentrations camps and the horrible things that happened in there. Pretty much everything is horrible. It's horrible and terrifying and makes you cry.
Reviewed by Oscar and HM – 10th & 12th grades
Find Maus at the library.
---
I'd like readers to read The Omnivore's dilemma where they give you specific details of what's in your food and what are called genetically modified organisms. GMOs can be cancerous towards your health and to the community at hand. Basically everything you eat is made out of corn and not 100% real. I definitely recommend this book to people who like health and fitness and I would also recommend it to people who like to eat and wonder what's in their food. The book is a non-fiction book, so that's true, too.
Reviewed by Lawrence - 11th grade
Find The Omnivore's Dilemma at the library.