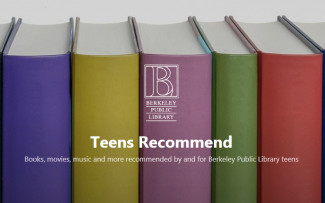 Book, movie & music reviews by teens for teens! Because who would know better what Berkeley teenagers might want than other Berkeley teenagers? 
Some of the most recent reviews are featured here. 
See all the reviews at BPLTeensRecommend.wordpress.com. 
Then check them out from the library. 
Do you have opinions about books, movies and music? Submit your own review!
---
The Things They Carried by Tim O'Brien is a really good book. It's not a non-fiction book, but it's told in the way of a non-fiction book so it's very satisfying; when you read it, it sounds like it's a true story. It is about the Vietnam War and what it's like when the character goes into the war. The author was in the Vietnam War and even though it has fictional characters all the people, the reasons they're there, their positions in the war, were real. It is realistic historical fiction and it is really good especially because it talks a lot about the war it has a lot of symbols in there. It tends to relate back to the real meaning of "the things they carried." So it's not just the physical things they carried, but it's the mental, and the things they wish they had back at home. For example, the main character killed someone and he never let go from that, never moved on; he was kind of in shock the rest of the time. So it's not just the physical things like the guns, the med kits, but it's also the things that happened to them are also part of "the things they carried." So it's definitely a very good book and I would recommend it to high schoolers in grades 9-12 (if not higher) and definitely recommend it to people who just like war stories in general.
Reviewed by HM - 12th grade
Find The Things They Carried at the library.
---
Princeless is about a girl who hears a fairytale about how a princess always needs a prince but she didn't really agree with it. The princess is always locked up in a castle with a dragon as a security guard, just waiting for one daring prince to come save her. But no princes come. So instead of waiting, she finds a sword and convinces the dragon to let her escape. She finds some armor and that's when she becomes a princess knight. She was kind of amazing; instead of waiting for the prince to come she took action on her own which was kind of smart really. And that is just the first book in a comic book series called Princeless.
Reviewed by Suhera – 10th grade
Find Princeless at the library.
---
Lawrence: This book, ok, it's not happy. Well, actually it is a little happy and sad. It's about a boy named Salva and how he lived in a wonderful village in Sudan. But then his home got invaded by another tribe and he got separated from his parents and that is how he became known as one of the lost boys of Sudan. Later in the book it has a happy ending but mostly I would recommend it to people who like sad and depressing books. And mischief.
Jonathan: Wait, tell them about the second part of the story too.
Lawrence: No spoilers!
Jonathan: No, not that. I mean how there are two people in the book – there was one side and there was another – the girl.
Lawrence: Oh yeah! It was a two-part story about a fictional girl and a non-fictional man. (That is Salva) but I forgot about Nya.
Andrea: So what do we need to know about that part?
Jonathan: Well, it explained the hardships of living in the Sudan after the events of Salva Dut's story. Much later he becomes something I can't explain without spoiling. But after maybe 18 years there is a little girl named Nya and she lives in a village but all the water there is dirty so usually she has to walk all day and night to fetch water. But it doesn't end like that. What happens between Salva and Nya with the water – that's the story.
Lawrence: This is the first story I've known where historical fiction and non-fiction intertwine at some point and it's really interesting. And it does have a happy climax, though, as he finds his family again and he's living with an American family in New York.
Reviewed by Jonathan and Lawrence – 9th and 11th grade
Find A Long Walk to Water at the library.
---