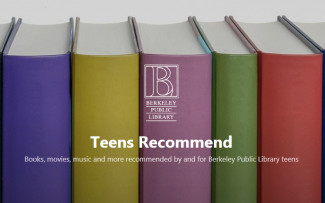 Book, movie & music reviews by teens for teens! Because who would know better what Berkeley teenagers might want than other Berkeley teenagers? 
Some of the most recent reviews are featured here.
See all the reviews at BPLTeensRecommend.wordpress.com. 
Then check them out from the library. 
Do you have opinions about books, movies and music? Submit your own review!
---
I'm reviewing In the Time of the Butterflies by Julia Alvarez. I loved it; it was such a good book! It is about these three sisters that live in the Dominican Republic and they are breaking out against a regime that has put them under this dictator Trujillo who has tried to control them. It's about women empowerment and them really stepping out and standing up for what they believe in to free their country. This is a fiction book but about a true story that happened in the Dominican Republic and the women's empowerment angle is really nice. I recommend it honestly to anyone. Some of the content is a little more mature for younger folks but if you're in high school you should definitely read it. It's such a good book!
Reviewed by FP – 10th grade
Find In the Time of the Butterflies at the library.
---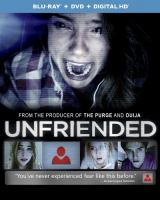 Unfriended is a scary movie but it's not THAT scary. It's about a girl who goes to a party and gets drunk and then some of her friends take this really mean photo of her and post it on the internet. Nobody knows who posted it but it goes viral. And two weeks later she kills herself. Then the rest of the movie is based on the facetimes of a group of friends. They show these friends on facetime and they are all freaked out because the girl who killed herself is on there too, but she's dead. So they don't know if someone might have hacked her account but basically she is threatening them and telling them that if they leave the facetime they will die. She comes back to kill every single one of them in different ways because they are the ones who did bad things. She threatens them while they are playing this game called five fingers and whoever goes down to zero fingers is the next to die.
It wasn't the best movie but it was good. One thing that happens that's kinda' funny is when she was killing this one dude she stuck a curling iron down his throat and it wasn't funny but it's a funny way to die. But basically it's a scary movie that builds up and builds up.
Reviewed by Mya – 6th grade
Find Unfriended in the library.
---
There was a Jewish girl during World War 2 who wasn't sent to German concentration camps but instead was carted off by Russians and actually ended up in Russian camps. (It's a historical fiction book.) There were parts where she was in a march and parts where she was going to different camps and getting put in like trains to different camps. And it was written based on the author's great aunt's diary that was found in the arctic somewhere. So the main character was based on that diary and she suffers through the war. And her family is Jewish and the try to hide that they're Jewish, but eventually they get found out and get sent to Russian concentrations camps. She makes some friends, but a lot of the people that she knows end up dying or submitting to the unknown circumstances that they're in and having to do stuff they don't want to do just to survive.
[SPOILERS]
And even at the end when they're being found in Siberia after they've built their houses out of snow (because they were force to build their houses out of snow) they're still being watched over by the Russians. And even when the Americans come they have to hide. And so they're not found by the Americans because it doesn't look like anyone's there and the Americans just leave without anyone knowing they're there and then they die.

And there's one person there who seems more well-off and she ends up sharing her things. But she has to do terrible things to actually get those things just so she and her son can survive. And the rest of the people look down on her, even though they realize she's just trying to help everyone else and survive.
This book was really good. It introduced me to historical fiction and made me love historical fiction and become intrigued by it.
Reviewed by OB – 11th grade
Find Between Shades of Gray at the library.