KIDS
Picture Books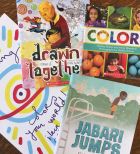 Jabari Jumps by Gaia Cornwall: After he passes his swimming test, little Jabari decides he's ready to try jumping off the diving board.
Drawn Together by Minh Lê and Dan Santat: Even though they don't have a language in common, a child and his grandfather share their shared love of drawing and storytelling.
Colors by Shelley Rotner and Anne Woodhull: Vivid pictures invite readers to explore the colors in the world around us.

Readers
Charlie and Mouse by Laurel Snyder: Brothers Charlie and Mouse, enjoy a day of adventures together, such as attending an imaginary party, a rock-selling venture, and conversations with lumps.
Fox the Tiger by Corey R. Tabor: Fox decides to become a tiger because they are fast and sneaky, and soon, his other animal friends are joining in.
Helpers in Your Neighborhood by Shira Evans: An introduction to some of the people whose job it is to help the communities in which we live.
Early Chapter Books

Little Robot by Ben Hatke (Graphic Novel): Discovering an adorable robot in the woods, a wrench-wielding 5-year-old endeavors to save him from big bad robots that want to use the little robot to achieve their own nefarious ends.
Dragon Masters #14: Land of the Spring Dragon by Tracey West: When a terrible earthquake destroys the crops throughout Bracken, Drake embarks on a series of Dragon Master tests in the hope of visiting a secret fairy world to ask the Spring Dragon for help saving the kingdom.
Pipsqueaks, Slowpokes and Stinkers: Celebrating Animal Underdogs by Melissa Stewart: A lighthearted look at the surprising traits that help some animals survive introduces young readers to a variety of "animal underdogs" and explains how characteristics that might seem like weaknesses are critical for finding food and staying safe in an eat-or-be-eaten world.
Middle Grade Grades 4-6
Wings of Fire: The Hive Queen by Tui Sutherland: Cricket, a dragonet who is immune to Queen Wasp's powers, goes into hiding after stealing the Book of Clearsight.
Flor and Miranda: Steal the Show by Jennifer Torres: When she overhears Mr. Barsetti, the manager of their traveling carnival, discussing his plans to get rid of her family's petting zoo so that he can put Miranda and her band on the main stage, Flora thinks of a way to sabotage the effort.
100 Most Awesome Things on the Planet by Anna Claybourne: A tour of some of the most extreme and awe-inspiring things in the natural and human-made worlds includes massive waterfalls, ancient monuments, the longest bridge, fastest rocket, and smartest robot, alongside amazing and quirky facts, a rating of how awesome the thing is, and full-color photos. 
The Gauntlet by Karuna Riazi: When 12 year old Farah and her two best friends get sucked into a mechanical board game, they know it is up to them to defeat the game's diabolical architect in order to save themselves and those who are trapped inside, including Farah's baby brother. 
Young Teen Grades 6-8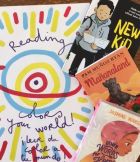 New Kid by Jerry Craft (Graphic Novel):  Enrolled in a prestigious private school where he is one of only a few students of color, talented seventh grade artist Jordan finds himself torn between the worlds of his Washington Heights apartment home and the upscale circles of Riverdale Academy.
Mañanaland by Pam Muñoz Ryan:  Growing up on legends about a mythical gatekeeper who assists worthy travelers, a young fútbol enthusiast from Santa Maria wonders about the mother he never met before uncovering a long-buried family secret involving an underground network that guides people to safety.
Other Words for Home by Jasmine Warga:  "Be brave" are the last words Jude's brother says to her before she and Mama flee from the growing violence in Syria and move in with relatives in the United States. Being brave is hard, though, as Jude worries for the family she left behind and discovers that America is nothing like the movies she loves.
TEEN
The Love and Lies of Rukhsana Ali by Sabina Khan:  After her conservative Muslim parents catch her kissing her girlfriend Ariana, Rukhsana Ali finds herself whisked off to Bangladesh and must find the courage to fight for the right to choose her own path.
The Opposite of Always by Justin A Reynolds: After falling for Kate, her unexpected death sends Jack back in time to the moment they first met. He soon learns that his actions have consequences when someone else close to him dies.
Superman Smashes the Klan by Gene Luen Yang (Graphic Novel): When her family is targeted by the KKK after moving from Chinatown to 1946 Downtown Metropolis, misfit Roberta Lee uses her keen skills of observation to help Superman thwart a string of terrorist attacks.
Beast Player by Nahoko Uehashi: When her mother is executed for the mysterious deaths of their kingdom's protective water serpents, a girl with an inherited ability to communicate with magical beasts finds her talent ensnaring her in life-threatening war plots.
ADULT
Honey Girl by Morgan Rogers:  After completing her Ph.D. in astronomy, a young, straightlaced, African American woman goes on a girls' weekend to Vegas to celebrate and gets drunkenly married to a woman whose name she doesn't even know.
Hidden Valley Road: Inside the Mind of an American Family by Robert Kolker: Tells the heartrending story of a midcentury American family with 12 children, 6 of them diagnosed with schizophrenia, that became science's great hope in the quest to understand the disease.
Minor Feelings: An Asian American Reckoning by Cathy Park Hong: An award-winning poet and essayist offers a ruthlessly honest, emotionally charged exploration of the psychological condition of being Asian American.
The House in the Cerulean Sea by TJ Klune:  Given a curious classified assignment to evaluate the potential risks posed by six supernatural orphans, a case worker at the Department in Charge of Magical Youth bonds with an enigmatic caregiver who hides dangerous secrets.