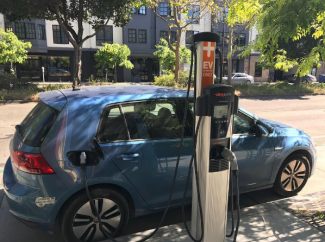 West Branch is now home to an Electric Vehicle Charging (EVC) station! Did you know, as a LEED Certified and Net Zero sustainable building, the West Branch of the Berkeley Public Library generates more electricity than it uses? This electricity is being put to good use, providing power to electric and hybrid vehicles in Berkeley and beyond. So, come to West Branch, plug in your car and come inside and enjoy your neighborhood library!
In addition to the West Branch EVC, you can find additional charging stations provided by the City of Berkeley at these locations:
Center Street Parking Garage
Oxford Garage, underground
Telegraph/Channing Garage
Berkeley Marina
West Branch Library
Note: These are all dual-port charging stations able to charge two EVs at the same time.  The West Branch Library is the only solar-powered station and is located on the street. All of the City's EVCs are managed through Chargepoint.
How much does charging cost?
Charging costs $1.50/hour in addition to parking fees.
What is next for the City?
The City is currently creating an EV Roadmap to increase access to electric vehicles in our community. 
Read about it here.
How can I learn more?
Visit the City's Web page at: