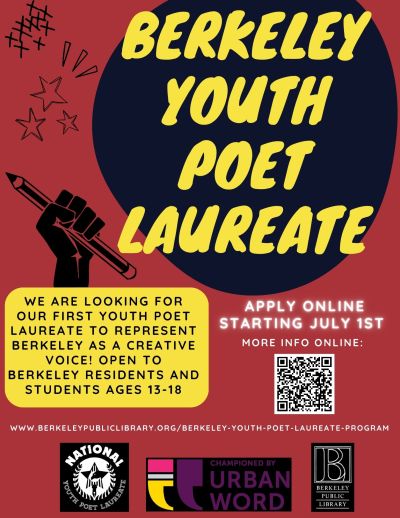 The Berkeley Youth Poet Laureate Program is a project to elevate and amplify Berkeley teens' voices through poetry. Teens will get a chance to explore their civic voices, join a cohort of young writers, and help nurture a writing environment at the library and in school.
The laureate and vice laureate will serve for the calendar year of 2024 and have the opportunity to perform at library and city functions, lead a community art project, and participate in writing workshops. They will also be eligible to represent Berkeley in the National Youth Poet Laureate Competition.
The finalists will perform in a kickoff celebration in January 2024 where the Youth Poet Laureate and Vice Youth Poet Laureate will be announced. 
Important dates
Applications open on July 1, 2023 and close on October 3, 2023.
Who is eligible?
You are eligible if:
You will be age 13-18 as of January 1, 2024;
You live in Berkeley or attend school in Berkeley;
You will live locally for the calendar year of 2024 and won't be enrolled in college full-time during the whole year.
How to apply
The application consists of three parts:
Basic personal and contact information
Resume/CV (this is a one or two page document where you can list all of your accomplishments and brag about yourself!)
Three original poems (no more than 10 pages)
All three parts of the application will be submitted online through the Google Form below:
Tips for applying
Basic Personal and Contact Information
You will need to have the following: 
Email
Name
Age
Date of birth
Address
School you are attending for the 2023-24 school year
Phone number (optional)
Resume/CV
The resume/CV will be submitted as an attachment (any format, such as pdf or doc, will work). The resume/CV is a chance for you to share about your experience with civic engagment, social justice, work experience, education, awards, and additional skills/experiences. It is okay to leave a section blank if you do not have any experience that fits. However, it is a requirement to submit a resume/CV, so simply fill it out to the best of your ability.
For the resume/CV, you are encouraged to use the template provided:
Three Original Poems
The three original poems will be submitted as an attachment (any format, such as pdf or doc, will work). They must be original work and should not be over 10 pages total. 
Need help applying? Check out our first Writing Workshop, happening on Thursday, August 10 at 3:30!
Learn about the judges and judging process
The first round of judging is anonymous and applicants will be judged on their creative voice and craft. The second round will include creative voice and craft as well as civic engagement and social justice.
Read more about the judging process here.
Questions?
Contact the BYPL Committee by email, and we'll be happy to answer any questions you may have: youthpoet@berkeleyca.gov.
Are you over the age of 18? Check out the Berkeley Poet Laureate Program, run by the City of Berkeley. Open to Berkeley residents ages 18+.
The Berkeley Youth Poet Laureate program is supported by an alliance of community partners. These community partners include the City of Berkeley Civic Arts Commission and Berkeley Public Schools, in partnership with Urban Word.