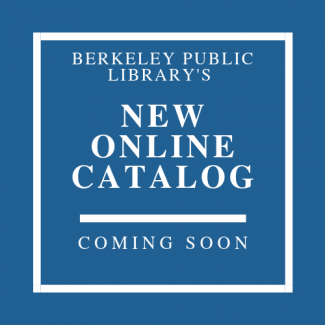 To better serve you, on July 2, 2019, the Berkeley Public Library will launch a new checkout and catalog system.
Some key benefits you will experience
Improved search results for all our collections. You've asked for improvements and we've listened. Our collections and easy access to them are our top priorities.
Innovative account management features such as:
Text messages for hold and due date notifications
Email notification when your library card is about to expire
Using your smartphone as your library card
Expanded options for managing your holds
Other user experience improvements including:
Ability to submit purchase suggestions easily and, if ordered, the Library places a hold for you and notifies you when your title is ready for pickup
An option to choose an email versus a paper receipt at checkout
What you need to know
We are here to help! In May and June our staff is receiving robust training. We are here to help you take advantage of all the new catalog will offer.
Link+ will be unavailable while the Library makes these improvements. Unfortunately all other libraries making this transition have also experienced this temporary pause in Link+ service. We apologize for the inconvenience. Starting on May 31, the Link+ catalog will not be available to BPL card holders for new reservations. Renewals for Link+ materials will not be possible during this time. Please return all Link+ items by their due date.
Do you have a library card for Alameda County Library or for other nearby libraries like Oakland or San Francisco? You can use Link+ through a variety of systems during BPL's temporary suspension of Link+ service. Click here for the list of Link+ Member Libraries.
The Library will be closed on Sunday, June 30 and Monday, July 1 to accommodate this change. No items will be due during the closure.
Act now
Some of you enjoy creating reading lists and have "opted in" to saving your reading history in our current system. With our new online catalog, you will have enhanced options to share titles and reading lists with friends. However, any saved reading lists and history from our current system cannot be imported into the new system. All libraries undergoing this transition has experienced this. If you would like to save any reading or history lists from your current account onto your own device, please follow these instructions. You must complete the download by Friday, June 28th, 2019. Need help with this? Just ask Library staff.
Our Commitment 
We are committed to constantly improving your patron user experience and this new online catalog is one way we are honoring that commitment. We are also committed to providing our staff with the tools to better serve our patrons and on the "back end" there will be enhancements for them as well. We know change is not always easy or convenient, no matter how beneficial the change may be. We will continue to update you of our progress throughout the transition.
If you have any questions please connect with library staff in person or click here to contact us.
Thank you for your support during this exciting time!