We're the perfect place to foster your child's lifelong love of reading!
Find Books, Magazines, Music and Movies
Our library collection, both online and print, includes a wide range of materials for children.  We are always happy to help you find just what you're looking for.
We have:
Board books for babies and toddlers
Books for beginning readers
Folklore and fairytales
Engaging informational books and DVDs
Materials in Spanish, French, Chinese, and Japanese
DVDs and music and stories on CD
Audiobooks, ebooks, digital magazines and streaming music
Search the library catalog for items at Berkeley Public Library.
Get a Library Card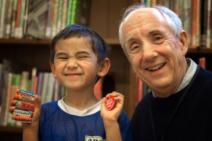 Children of any age may get a library card. It's free!
Parents or legal guardians fill out the online form. Children come to the library in person to receive their card. 
Find out more about borrowing materials.
Come to an Event
Check our calendar to find free programs and events for kids and their families.  
Computers for Kids
AWE Early Literacy Station™ computers are loaded with games, stories and activities for children ages 2 – 8. AWE Stations have bilingual Spanish/English interfaces.
We have computers with internet access and word processing. Kids should bring their own library card to use these computers. The library does not restrict or filter kids' use of the internet.
Museums Passes

Discover & GO offers free access to many Bay Area museums and venues. Reserve and print your free passes today with any adult or senior card!
Community Agencies and Services
Search our Community Resources to find childcare referral agencies, tutors, day camps and other organizations and services.