June 5, 2023 - 2:00pm-3:00pm
(ended)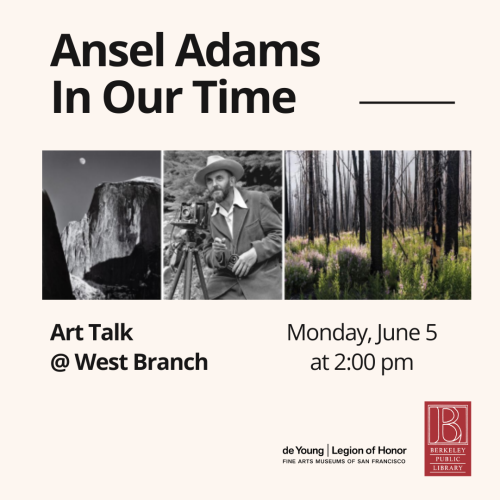 Join us for an art talk led by Legion of Honor docent Mike Madrid. A self-described "California photographer", Ansel Adams (1902-1984) had his first museum exhibition at the de Young Museum in 1932. In a San Francisco homecoming, more than 100 of his most iconic images of Yosemite, San Francisco, and the American Southwest will be on view in Ansel Adams In Our Time. The exhibition looks back and forward in time, placing Adams' work in direct conversation with 19th century photographers who influenced him, as well as contemporary artists who followed. Organized by the Museum of Fine Arts, Boston, in partnership with the Fine Arts Museums of San Francisco, the exhibition also explores how Adams' commitment to wilderness preservation continues to inspire us today, serving as an urgent call to protect our environment.
No registration required, but space is limited. Attendees are encouraged to arrive a few minutes early to secure a seat.
About the presenter: Mike Madrid has been a docent at the Fine Arts Museums of San Francisco since 2019. He was an advertising and marketing executive for more than twenty years, specializing in global fashion brands. Mike is the author of three books including The Supergirls: Fashion, Feminism, Fantasy, and the History of Comic Book Heroines, which NPR named as one of their "Five Best Books to Share with A Friend." He has written articles for a number of publications including The Huffington Post, and has spoken at colleges, libraries, and conferences across the country. A San Francisco native, Mike is an avid traveler who loves to visit museums both large and small around the world.
Export to Calendar: Add this event to your calendar (iCal).