When will I be able to access Libraries indoors?
Express indoor browsing, holds pick-up, self check-out & computer use are available at all locations except the Tool Lending Library.
Please visit our Locations & Hours page for service hours.
If a patron requires outdoor pick-up of a hold during these hours at these locations, please alert staff at the front door.
Please continue to physically distance from others. Masks are required, even if you have been vaccinated. 
Outdoor Pickup of holds continues at all locations.
Please note: Staff teams are continuing to make plans for providing more indoor access to our locations. The teams are working in coordination with the City of Berkeley, Labor Unions and Public Health. Additional services will be announced via the "Library Happenings" e-newsletter, on social media and here on berkeleypubliclibrary.org.
How does Outside Pick-up work?
Patrons can place new holds from the Library's catalog or may do so with the help of Library staff via phone or email. No appointment is necessary.
Outside Pickup is held in the doorway entrances of Libraries with strict safety protocols in place. For quick service, please have your library card ready. 
Face coverings are required for service as is 6 feet of social distancing between patrons.
Receipts cannot be issued for returned materials at this time.  You may check the status of your account from the Library catalog. For Link+, check your account here. Please call the Library during business hours if you have any questions about your account status.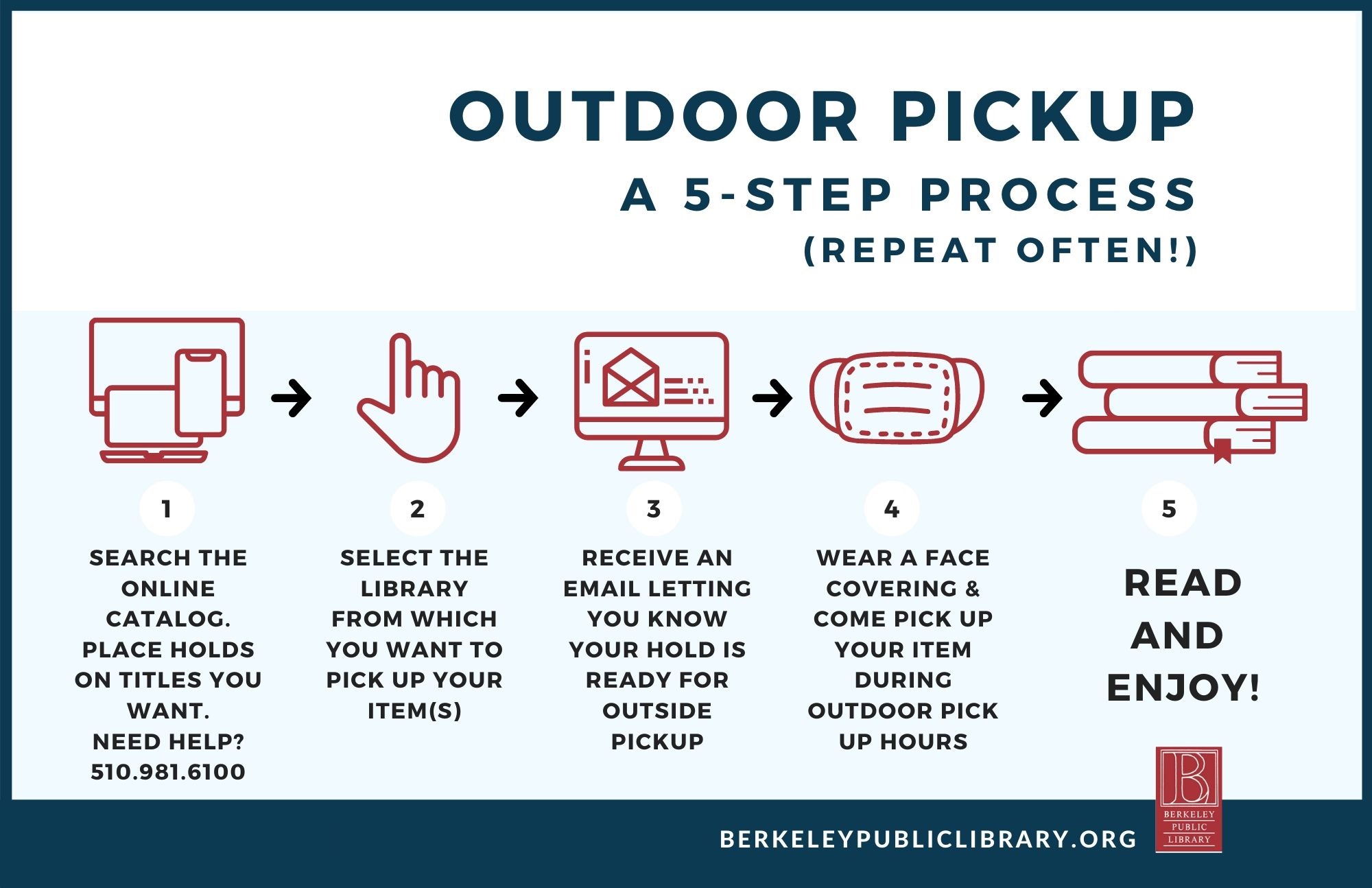 Is the Tool Lending Library Open?
Yes, and check-out times have been extended to 7 days for all materials!

Access to tools, including the new Culinary Tools, are available by reservation only through the Library's new Tool Catalog or via phone by calling (510) 981-6101.
If you need a tool immediately, please call (510) 981-6101 to inquire about availability and make a reservation. If the item is not immediately available, you will receive a hold notice when it is ready for you. Most patrons choose to receive hold notices via email. If calling in, let the Tool Lending Specialist know how you prefer to be notified. Holds must be picked up within 3 days.
Please return tools during open hours. Do not place tools in the book drop returns or leave tools outside the Library when it is closed.

See the list of tools in the collection here.
How will I be informed of any changes to Library services during Covid-19?
Updates will be posted on the Library website. Also, patrons can call 510.981.6100 during Central hours to speak with staff.
For general updates monthly, subscribe to the Library Happenings newsletter.
How do I know if I have items on hold ready for pick-up?
You will receive a courtesy notice, generally by email, when a hold is ready for outside pickup. If you are unsure whether or not an item is ready for pickup, please check your Library account. 
I know how to use the catalog, but I just don't know what I want. Can you help me?
Yes!
The Library is now offering a Personalized Book Picks service. Based on the interests you indicate, library staff will identify 3-6 books for you and will place them on hold. Your personalized book picks will be placed on hold in your account within one week after you submit the form. Expect an email when the materials are ready, and you will have two weeks to pick them up at the Berkeley Public Library location of your choosing. 
I have a reference question to ask or a question about my account. Can I ask you?
Yes!
Please call (510) 981-6100 during Central Outdoor Pickup hours to speak directly to librarians and library staff. If email is preferable, fill out the "Contact Us" form.