What services are available from the Library facilities during Covid-19?
Patrons can place new holds from the Library's catalog or may do so with the help of Library staff via phone or email for pickup outside all five Library locations. No appointment is necessary.
Hours for Outside Pickup are as follows: 
Central: Monday 12-6, Tuesday 10-6, Wednesday 10-6, Thursday 10-6, Friday 10-6, Saturday 10-6
Branches: Monday 10-6, Tuesday 10-6, Wednesday 10-6, Thursday 12-6, Friday 10-6, Saturday 10-6
Outside Pickup is held in the doorway entrances of our Libraries with strict safety protocols in place. To ensure safe social distancing from the book slot at Tarea Hall Pittman South, Outside Pickup is offered from the Tool Lending Library side of the building. To ensure safe social distancing from the book slot at North, Outside Pickup is offered from the back entrance on Josephine Street.
For quick service, please have your library card ready. 
Face coverings are required for service as is 6 feet of social distancing between patrons.
Book drops and return slots at all Library locations are open 24/7. All materials but for tools and science equipment must be returned via the return slots.
Receipts cannot be issued for returned materials at this time. All materials, including Link+ items, are quarantined for at least 72 hours before being checked in. As a result they will remain on patrons' accounts for that time. You may check the status of your account from the Library catalog. For Link+, check your account here. Please call the Library during business hours if you have any questions about your account status.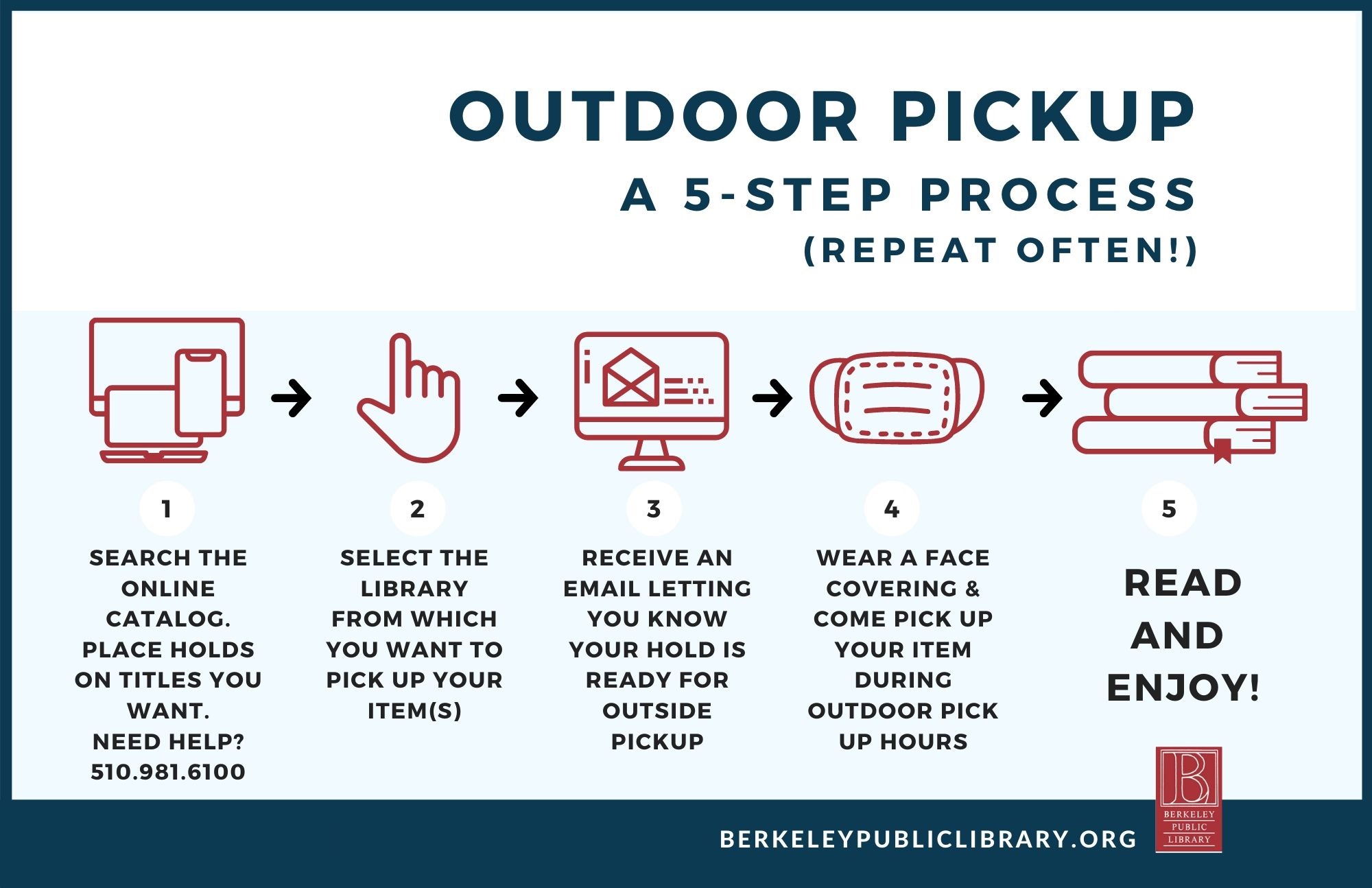 Is the Tool Lending Library Open?
Yes, and check-out times have been extended to 7 days for all materials!

Access to tools, including the new Culinary Tools, are available by reservation only through the Library's new Tool Catalog or via phone by calling (510) 981-6101.
If you need a tool immediately, please call (510) 981-6101 to inquire about availability and make a reservation. If the item is not immediately available, you will receive a hold notice when it is ready for you. Most patrons choose to receive hold notices via email. If calling in, let the Tool Lending Specialist know how you prefer to be notified. Holds must be picked up within 3 days.
Please return tools during open hours. Do not place tools in the book drop returns or leave tools outside the Library when it is closed.

See the list of tools in the collection here.
How will I be informed of any changes to Library services during Covid-19?
Updates will be posted on the Library website. Also, patrons can call 510.981.6100 during Central hours to speak with staff.
For general updates monthly, subscribe to the Library Happenings newsletter.
How do I know if I have items on hold ready for pick-up?
You will receive a courtesy notice, generally by email, when a hold is ready for outside pickup. If you are unsure whether or not an item is ready for pickup, please check your Library account. 
I like to browse. Can't I just go in and take a look safely through the books?
The Library's goal is to help protect your safety while providing as high a level of service as possible. Per Public Health Department orders, the Library is encouraged to provide "curbside," i.e., outside services.  Because browsing physical books is a high-touch indoors practice, not offering the opportunity to browse helps effectively protect the health and safety of patrons and staff.
If you are interested in learning how to use the online catalog to browse the collection and place holds, a Librarian can walk you through the process by phone. Please call 510-981-6100 during the Central Library's business hours.
I know how to use the catalog, but I just don't know what I want. Can you help me?
Yes!
The Library is now offering a Personalized Book Picks service. Based on the interests you indicate, library staff will identify 3-6 books for you and will place them on hold. Your personalized book picks will be placed on hold in your account within one week after you submit the form. Expect an email when the materials are ready, and you will have two weeks to pick them up at the Berkeley Public Library location of your choosing. 
I have a reference question to ask or a question about my account. Can I ask you?
If you have a question, it can be asked via phone (510) 981-6100, or you can "Contact Us" from the Library's web page.
Currently we are unable to answer questions in the Outside Pickup lines because we are trying to make sure that people who pick up their books can do so as safely, quickly, and efficiently as possible.
I have a book on hold to pick up. How do I know that it is safe to do so?
All returned materials are quarantined for at least 72 hours, based upon the advisement of the California Department of Public Health.

Staff  who handle materials are required to follow strict hygiene practices, including washing their hands often. All surfaces such as tables and book trucks are disinfected regularly. Library cards are placed into trays and scanned without being touched by staff.
Staff have worked closely with the City of Berkeley Safety Officers to ensure our Outside Pickup processes for holds are as safe as possible.